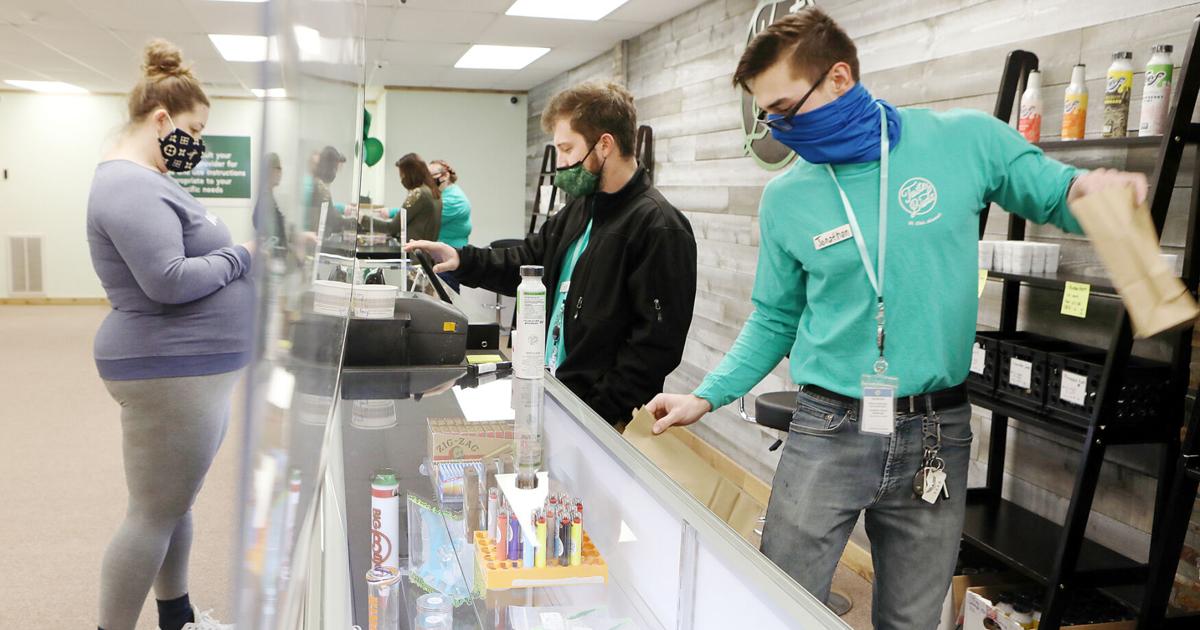 Fourteen months after the first sale to a qualified patient, the state's medical marijuana cannabis industry has eclipsed a major milestone, according to the Missouri Department of Health and Senior Services.
The state's 180 dispensaries have recorded more than $200 million in total sales.
"Nearly every facility who was part of the initial round of licensing is now up and running and providing beneficial products and service to the patients of Missouri," said Lyndall Fraker, director of the Section for Medical Marijuana Regulation for the state health department.
Among those dispensaries licensed to operate are Missouri Health and Wellness in Washington, Taste Buds in St. Clair and Green Gryphen, LLC in Pacific. There is also Columbia Care in Hermann. The Missourian's attempts to reach Taste Buds, Green Gryphen and Columbia Care were unsuccessful as of press time.
Kathleen Beebe, a spokeswoman with Missouri Health and Wellness, said she "is not surprised" by how quickly the state hit the $200 million threshold.
"We've been open a year and we have seen a lot of growth in our business," Beebe said. Missouri Health and Wellness was one of the first dispensaries in the state to open, making its first sale Nov. 30, 2020.
Beebe said the growth in the cannabis industry is best seen in the number of new patients enrolling in the statewide program.
"There are 160,000 (medical cannabis) cardholders in Missouri right now, which is just a remarkable number for the program," Beebe said. "As people continue to gain an understanding of how this plant could help them, I would anticipate that this number is going to dramatically increase."
According to the state's health department, there are 2,728 cardholders in Franklin County. The county ranks 13th in the state for most cardholders, with Jackson County near Kansas City with the highest number of cardholders, 20,373.
Other nearby counties' numbers, as of Dec. 1, 2021, are: Warren, 1,317 cardholders; St. Charles, 9,517 cardholders; St. Louis, 18,774 cardholders; Jefferson, 5,587 cardholders; Washington, 532 cardholders; Crawford, 641 cardholders; and Gasconade, 366 cardholders. The city of St. Louis has 4,685 cardholders.
"The core of our clients are from the Washington area, but we are still seeing some people come from outside of the local area," Beebe said of the Missouri Health and Wellness dispensary, located at 901 E. First St. The business has created 12 jobs.
"There are some 6,000 agent jobs that have been created as a result of the cannabis industry, and that is just a starting number," Beebe said. An agent is someone who has obtained state certification to work in a dispensary.
To date, the state has opened eight lab testing facilities, 41 cultivation facilities, 58 manufacturing facilities, 180 dispensaries, and 19 transportation-related businesses for the cannabis industry.
Among those businesses are SLCC, LLC, which is approved to operate a manufacturing plant in Robertsville and Midwest Root, which is preparing next month to open the initial phase of what could be a 30,000-square foot manufacturing facility on Old Highway 100 outside of Washington.
Chris Klein, of St. Louis, owns Midwest Root. He said he intentionally delayed his company's debut on the market, which will be marketed as Olympus Cannabis Company, because of delays within the industry.
"I didn't want to make a product and have it run out on the shelves," Klein said. "It has taken cultivators some time to get online, and now that they are online and producing a steady stream of product that means we can move forward. … 2022 is going to be a year of a lot of growth in the cannabis industry."
The COVID-19 pandemic also delayed the manufacturing plant, which currently employs about a dozen people, from opening.
"We saw everything from equipment delays to packaging delays," Klein said.
He and Beebe agreed that the cannabis industry has been quietly creating jobs throughout Missouri.
"I think sometimes people don't always remember to think about how this industry is creating jobs for people in local communities across the state," Beebe said. Attempts to reach Jack Cardetti, spokesperson for the Missouri Cannabis Trade Association, were unsuccessful as of press time.
Klein agreed, "I want to provide careers, not just jobs. In this industry, if you are creating the right opportunity then people will come."
He said much of his workforce is currently living outside of Washington, but will be moving to the city once his plant becomes operational. For example, his sales manager is relocating to Washington from Las Vegas.
Klein said if he receives a cultivation license then his company's footprint in Washington will "grow tremendously."
"Cultivation requires a lot more space, a lot more hands as people will be checking plants daily," Klein said.
Beebe said the arrival of new cannabis-infused products also are helping the industry flourish. When the industry made its debut in Missouri, cardholders were generally limited to only purchasing loose cannabis flower.
"Now, it is much more sophisticated," Beebe said. "We are seeing more tinctures, more balms, more lotions. It is all progressing really quickly."