When Claudia Salazar and her family migrated to San Elizario, Texas, a small city in El Paso county, they settled into a colonia – informal, low-income housing often found in rural parts along the US-Mexico border. Their house was small, but had enough room for her four kids, and before long, it felt like home.
But the remoteness of their new home soon presented problems – Salazar suddenly found herself in a medical desert. The nearest hospital is a 35-minute drive away. Even that is challenging to get to – the community's mostly farm worker population works 10- to 12-hour days, and often lacks adequate time to travel for medical attention between workdays.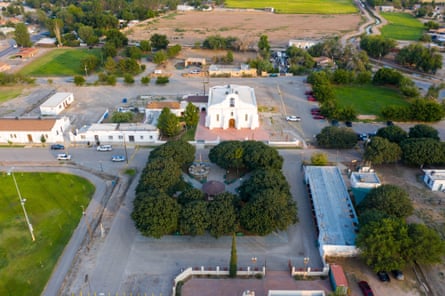 The lack of consistent medical access is just one of the many public health issues that colonias face, and a group of women familiar with the dynamics in this region thought of a relatively simple solution: bringing medical care to the people who need it most in these borderland communities. "Familias Triunfadoras has been really helpful since they provide a mobile unit clinic," Salazar said. "That's when we get a chance to visit a doctor or get a doctor's appointment."
Familias Triunfadoras is a San Elizario-based non-profit that is composed of women who step in as community organizers to connect residents like Salazar to resources they may not know exist. They're known as promotores de salud – or more commonly, simply as promotoras – within border communities, and help with all sorts of public health issues, from housing to food assistance. Their efforts to make healthcare more accessible in medical deserts like San Elizario has proven invaluable to residents.
Since 2019, Salazar has worked as a promotora herself, on top of being a full-time farm worker, taking English language classes, and studying for her GED. When she's on the job as a promotora, canvassing her neighborhood, she asks residents detailed questions about their healthcare needs and then connects them with medical resources and professionals. Sometimes that looks like referring them to the doctors who work in mobile clinics and sometimes it looks like administering vaccinations herself. Salazar and her colleagues also have their eye on longer-term solutions, collecting community testimonials in order to advocate for more funding. Although it is not unheard of for a colonia to have its own health clinic, language barriers and a fear of deportation can often prevent residents from taking full advantage of the resources available to them.
Over the last three years, the high-touch role of promotoras in the communities they serve – which have been disproportionately affected by the pandemic – has become abundantly clear. But these networks have been increasingly threatened by the ongoing politicization of healthcare in the US, the previous presidential administration's rollback of funding and the rising cost of living. In Texas, promotoras can make a maximum of $15/hour, but in certain areas like El Paso county, many make less than that. Promotoras receive funding from public and private grants and securing ongoing financial support for their efforts can be difficult.
In the 1970s, Maria Covernali came to Texas from Juárez, Mexico. A domestic violence survivor, Covernali became a promotora in 2009; that same year, she started Familias Triunfadoras with the goal of certifying other survivors of gender violence as promotoras.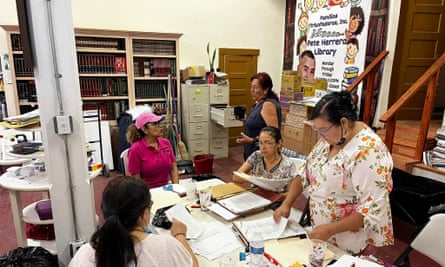 The organization has created a culture of empowerment among the women who join, giving them the tools to advocate for their needs and the needs of others in the face of scarce resources. "I realized that a lot of women, they stay with their partners, their husbands, their boyfriends because they don't have any tools to go out and be self-sufficient," Covernali said.
Today, Familias Triunfadoras works with 26 different community projects and nearly 700 certified promotoras in El Paso county, to connect those living in colonias to healthcare resources.
Unlike other neighborhoods or enclaves found in the region, colonias often lack basic utilities like access to running water, adequate sanitation, sidewalks or traffic lights.
According to Guillermina Gina Núñez-Mchiri, the dean of San Diego State University's Imperial Valley campus, many colonias were built during the Bracero program in the 1960s, which allowed millions of Mexican workers to enter the country under temporary work permits.
"Colonias, I would argue, were the solution to farm worker housing, to have labor close to their place of employment," Núñez said. "And because agriculture has low wages, what can people afford to buy or rent?"
Barriers to colonia residents' access to healthcare can be myriad, which is reflective of the broader borderland; a study found that one out of three people in Texas's Rio Grande Valley are uninsured or underinsured.
As a result, residents face a range of health issues, from chronic diabetes and obesity to depression and social isolation. A 2021 community case study conducted in colonias along the Texas-Mexico border found obesity, diabetes and depression levels that were higher than national averages.
Exacerbating the situation is the fact that it can be difficult to recruit medical professionals to rural America. And even in colonias that do have a medical clinic, residents may face challenges in scheduling or keeping appointments.
"In rural communities, if you get sick after 5 o'clock, the clinic's already closed. If you have a fever on the weekend, or your child has a fever or an elder has a heart attack on the weekend, there is no medical care," Núñez – should this be Núñez-Mchiri? said.
This is where promotoras can come in. "We will [go out] two to three times a week to [talk] to the farm workers and take their information because they work all day," Covernali said. "We have to go to the ranchers, to the farmland, and talk to them [about] what is going on." After promotoras identify community needs, they can then refer residents to mobile clinics, help residents apply for health insurance and food stamps, administer vaccinations and more.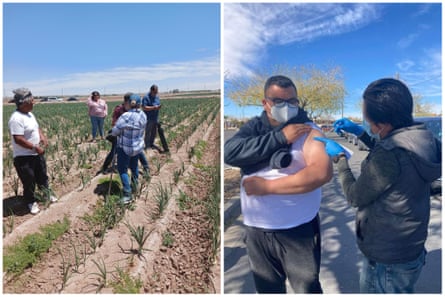 The work of promotoras became especially important during the pandemic. Over the last two and a half years, the University of Texas at El Paso (Utep) has worked closely with the Morehouse School of Medicine to mitigate the impact of Covid-19 among disproportionately impacted communities, specifically focusing on farm, dairy, and meatpacking workers in El Paso, Texas, Moore, Texas and Doña Ana, New Mexico.
Although the project initially focused on the distribution of Covid-19 information, it quickly expanded based on what promotoras were reporting back, according to Nora Hernandez, who works on the project at Utep. Soon, they were also distributing protective equipment, food baskets and personal hygiene products.
"They were out in the community, providing the education and the resources that were needed [and] putting their lives at risk," Hernandez added.
Promotoras not only support the physical health of residents but also their mental health. According to Maria Retana, a promotora who work in Doña Ana and El Paso county, recently her colleagues have been getting the word out about 988, the new national suicide hotline. Promotoras are also trained to de-escalate situations involving mental distress.
Beyond connecting residents with existing healthcare resources, promotoras also advocate for the creation of new life-saving amenities – for example, helping residents lobby for potable water in their community.
The hard work of promotoras continues despite the odds being stacked against them: the Trump administration significantly slashed healthcare funding, limiting opportunities to hire these workers. And with the overturn of Roe v Wade, promotoras will struggle to connect residents to reproductive health services.
"The [US-Mexico] border is a region that has been organizing for the longest: We don't wait for the federal governments to tell us what to do. We have to survive," Eva Moya, an associate professor in the department of social work at Utep, said. "In the case of community health workers, they don't necessarily have the resources to [organize at the national level], but they're in the trenches doing what needs to be done."
In Moya's ideal world, promotoras would work in emergency rooms, addiction recovery programs and with researchers to better serve their communities. She's seen firsthand what a difference a familiar face can make.
"The community looks for us. We've been outside small stores and they see that table and they get down out of their cars and start a conversation with us," Retana said. "And when they leave, I tell them: 'Hey, you forgot to go into the store,'" and they say: 'No, I wasn't coming into the store. I just came to see you.'"